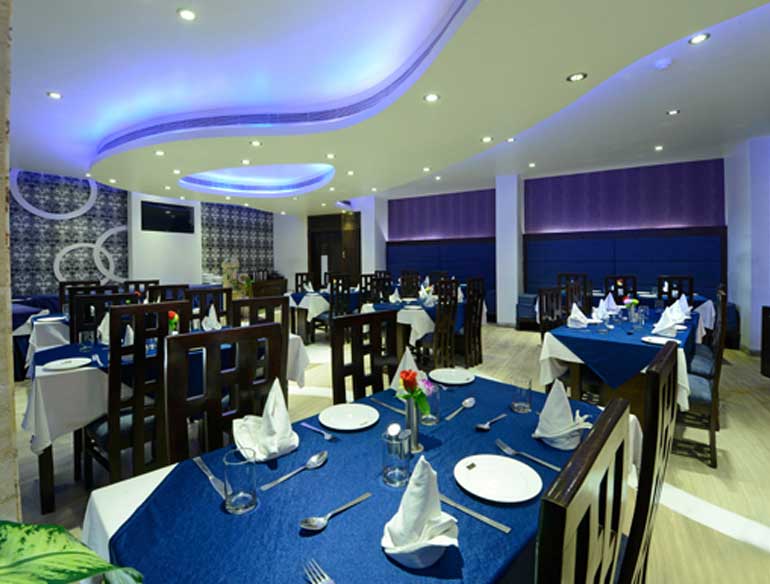 Delicious World Cuisine for Every Taste at Taj Resorts, Agra
The Taj Resorts proudly boasts of two incredible restaurants: Taj Terrace and Bon Appétit. Our excellent chefs supported by our outstanding waiting staff will take you on a voyage of sheer gastronomical delight.
Our guests love the ambience of the Bon Appétit restaurant with the soft lighting and comfortable seating. The ergonomic design of our chairs ensures that you can dine in comfort. The floor to ceiling windows give an open air ambience to the already spacious interiors. A sublime mix of modern and traditional decorations on the walls add a fresh dimension. As you dine you will be entertained by live performances of talented musicians and ethnic dance performances by local artists.
The Taj Terrace Restaurant is a one of a kind – where else can you dine under the open sky with the magnificent Taj Mahal clearly visible just a short distance away? This is especially recommended in the evenings, more so on full moon nights – the view of the Taj at night under a moonlit sky is breathtaking to behold. Imagine enjoying a delicious meal with this glorious monument as your backdrop! A very surreal and memorable experience indeed.
We accommodate a variety of taste with our multi-cuisine menu. Besides the traditional Indian dishes on offer, we also serve exquisite Mughal cuisine which also happens to be one of our specialities. Eclectic European dishes with scrumptious breads and rich sauces are available for those who wish to sample their subtle taste. The famous Indianised Chinese menu offers dishes for those who seek something different.
All our dishes can be customised to suit your palette. You can choose to be adventurous and taste the delicious local cuisine or get something prepared to your taste if you crave a different flavour. No matter what you choose, dining at one of our restaurants is a memory you will treasure forever.
Taj Resorts Restaurants Provide